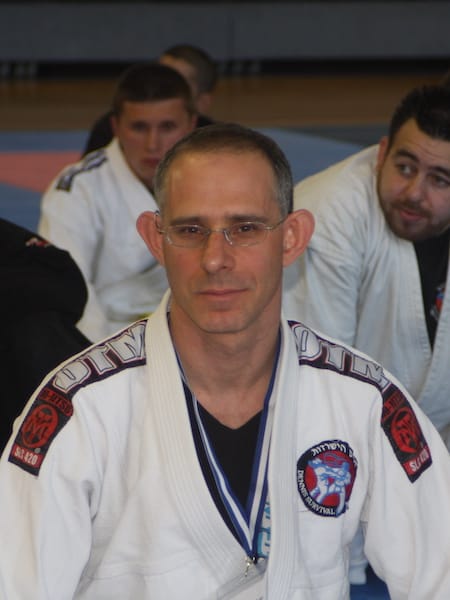 Tomer Steinberg
Tomer Steinberg has been training in martial arts since the mid 1970's as a young kid in Israel. He studied under the tutelage of 12th Dan, Kaicho, Dennis Hanover, and 10th Dan, GrandMaster, Tzadok Shmoeli. Tomer has a black belt in Judo, a 3rd degree black belt in Kyokushin Karate, a 4th degree black belt by the European Ju-Jitsu Union (EJJU), and a 8th degree black belt in Dennis Survival Ju-Jitsu.
Putting his skills to the test, Tomer competed in the Open Israeli Full Contact Ju-Jitsu/Hisardut National Championships and won the title 7 times, most recently in December 2011.
Starting his teaching career, Sensei Steinberg opened his first martial arts school in 1986, after serving as an assistant instructor for a number of years. Since then he has owned and ran several successful martial arts dojos, working with a wide range of students and groups, such as children ages 4 and up, teenagers, adults, women, security personnel, and more. During his 3 year military service, Tomer served in the IDF Instructors' Unit.
Drawing on his training in healing and coaching, Tomer has developed programs for disabled and distressed youth, working for the Israeli Ministry of Education.
Tomer is not only an accomplished martial artist but a well saught after fitness instructor. He has been teaching indoor cycling, and whenever he has the opportunity, always hops on his bike to ride out doors. Tomer has participated in several triathalons, including the Las Vegas local Silver Man race.
Tomer has an extensive background in complimentary medicine, healing arts, a passion for nutrition and wellness, meditation, and the practice of the internal martial arts of Yi Chuan, Qigong, Tai Chi.
Tomer brings over 30 years of martial arts experience. He currently lives in Las Vegas, Nevada, with his wife Leigh, and 2 daughters, Yahm and Gaia. Tomer is currently the highest ranking Dennis-Hisardut instructor in the US, and is the head instructor of the Center for Israeli Martial Arts, DSJJ in Las Vegas.